Harvest Festival
Harvest Festival
25 September 2023 (by Amy Salsbury (admin))
Friday 29th September at 2:15pm in Saffron Green school hall!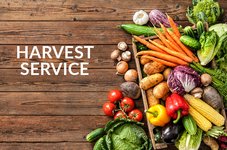 This year, our annual harvest festival service will take place on Friday 29th September in Saffron Green school hall.
We would like to invite parents, carers and other family members to join us in this celebration. The service will start at 2:15 pm.
During our harvest festival celebrations we would like to take the time to remember those less fortunate than us. As part of this we will be collecting donations for Borehamwood Food Bank. We would be grateful for any donations to support this cause. Any tins or jars of food and drink, cereals, rice, pasta, biscuits, teabags and instant coffee would be much appreciated. Please send donations to school from Monday 25th September – Thursday 28th September ready for us to take to the food bank.
We hope you can join us on the day!