Just Talk Week - Parent workshop
Just Talk Week - Parent workshop
22 November 2022 (by Josie Ray (Josie Ray))
FREE WORKSHOP!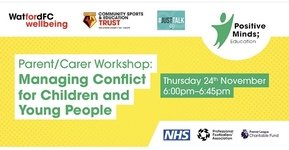 This week is Just Talk Week at school. Each class is completing lots of different activities celebrating and advocating for talking about our mental health.

You can get involved too!
Parent/Carer workshop: Managing conflict Children/ Young People.
The workshop is inclusive of top tips, as well as providing you with take home resources for you to have, to support you around conflict with your child/young person.
The workshop is taking place on Thursday 24th November 12:30-1:15pm AND Thursday 24th November 6:00-6:45pm