Our Exciting Community Project Update!
Our Exciting Community Project Update!
27 September 2022 (by Amy Salsbury (admin))
Exciting news! We have our finalists! Thank you to every entry we received. Mr Bennion was overwhelmed with the level of effort and skill in the designs we received.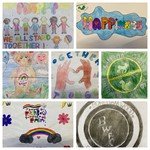 Together with Katie, a local resident involved in the Borehamwood fire, Miss Salsbury and Dan Ozarow our local Borehamwood councillor, Mr Bennion had the tough job of selecting our finalists.
Next step is for Mr Bennion to work his magic in bringing the design to life through his spray painting artwork.
Look out for further developments in our exciting community project!