Saffron Green Open Day
Saffron Green Open Day
26 September 2022 (by Amy Salsbury (admin))
Help us promote our up and coming Saffron Green Open Day this weekend!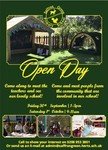 To help us reach out into the community we are asking for any parents or carers who would be willing to help drop some of our open day flyers to any local pre-nurseries, children centres, community groups such as Brownies or Scouts this week.
Do come by the office and pick some up if you are able to support in any way.
We really do appreciate it.