Maths - Working backwards!
Maths - Working backwards!
23 September 2022 (by Josie Ray (Josie Ray))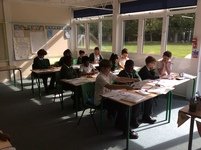 Yesterday and today in our Maths lesson we have been working backwards!
Thinking carefully about our strategy; we played a Chinese Maths game named Nim. We had to think logically and use our working backwards skills in order to win the game!
Y6's, see if you can teach a member of your family to play Nim at home!