Confidence Building Workshop!
Confidence Building Workshop!
23 June 2022 (by Stephen Flanagan (Stephen Flanagan))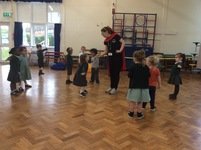 Nursery really enjoyed dancing and performing at their best during their most recent workshop! It's so wonderful to see all the children active and happy across their learning, in a range of ways!
The children really were amazing! They were building confidence, improving coordination, singing, dancing and performing during yesterday's workshop!