The Queens Jubilee - Friday 27th May
The Queens Jubilee - Friday 27th May
20 May 2022 (by Amy Salsbury (admin))
On 6th February this year, Her Majesty The Queen, became the first British Monarch to celebrate a Platinum Jubilee, marking 70 year of service to the people of the United Kingdom, the Realms and the Commonwealth.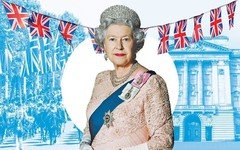 Saffron Green have decided to mark this special occasion with a 'Family Picnic' on Friday 27th May 2022 12pm – 3pm. You are warmly invited to join your children from 12pm onwards for a picnic lunch. We will then break off into our year groups at 1pm for some playground games. At 2pm, we will re-group for a singing session with Mrs Tamang, where you will be able to watch and even join in with the songs our classes have been practising for this special occasion.
There will not be an option for a hot lunch on that day, however your child can order a school packed lunch or bring in their own. The office will need to know by Wednesday 25th if you would like a school packed lunch ordered for your child. Tea, coffee and cakes made by the children will be available on the day for a donation to the PTA fund.
We hope as many of you can join us for this truly wonderful celebration and finally enjoy coming together to celebrate in mass after a long time apart during the COVID pandemic.